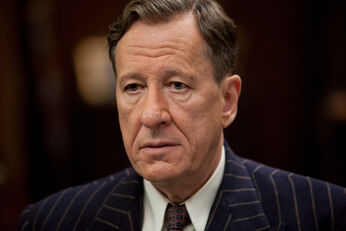 James Gar-Lasidiv (19th May 1803 - 7th November 2003, born in alternate universe) was the head of the Species Administration League and was a veteran of the Sapha Wars of the Edge, where he fought with Aramus Lord Paxvir. Commonly acknowledged as both a skilled politician and brilliant orator, he has retained a place as one of the most influential beings ever to live. He had two children by different mothers.
Early Life
Edit
James Gar-Lasidiv was born in Baker, Angland, the corresponding city and country to Manchester, England in Gar-Lasidiv's alternate universe. He came to Harber (London) in order to become a lawyer, but instead was conscripted into the Ninth Cowich Fusiliers to fight in the Sapha Wars. Before leaving he entered into a relationship with Geraldine Kexesi, a psychologist. He never saw her again although she gave birth to his child.
The Sapha Wars and meeting Paxvir
Edit
By 1820 (Decem Annus) Brigadier Corporal J. Gar-Lasidiv had been fighting Sornian forces at the Edge for just under a year. He had been wounded twice, recieving an argon ray in the foot at the trenches of Serad-Var (a former penal colony in the northern valley area of ML-297 (Ros An Lun), defunct due to a rebellion)
Ad blocker interference detected!
Wikia is a free-to-use site that makes money from advertising. We have a modified experience for viewers using ad blockers

Wikia is not accessible if you've made further modifications. Remove the custom ad blocker rule(s) and the page will load as expected.